Riihivuori
Resort type:

Ski resort

Landscape:

Mountains, Coniferous Forest

What to do:

Cycling, Downhill Skiing, Natural Parks & Reserves, Carting & ATVs, Wellness Tourism, Hiking, Rafting & Kayaking, Snowboarding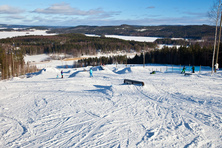 Riihivuori is a ski centre situated on the territory of Muurame Municipality not far from the city of Jyvaskyla in the south of Finland. It is 5 kilometres away from Muurame and 20 kilometres away from Jyvaskyla. The centre was founded in 1982.
The tourists can stay in the local camping's, cottages or hotels in Jyvaskyla, for example, Solo Sokos Hotel Paviljonki, Finlandia Hotel Alba and Milton.
The extreme tourists can master their alpine skiing and snowboarding skills while skiing on the 9 equipped slopes. The northern slopes are for more experienced skiers. The beginners should choose the eastern slopes. The total length of the cross-skiing trail is 10 kilometres. In Riihivuori Ski Resort, there is a snow park for the fans of snowboarding. The active tourists can go snow shoeing or ride a snowmobile. In summer, the tourists love to go kayaking, rafting, biking or ride four-wheelers.
If no journey is complete for you without excursions, you can go on an excursion tour to Jyvaskyla and visit Alvar Aalto Museum, Craft Museum of Finland, see Saynatsalo Town Hall. The pilgrims should not miss a chance to visit the Old Church of Keuruu and Petajavesi Old Church.
The natural diversity of the region makes it a popular resort with the ecological tourists. In Leivonmaki National Park, they can explore the local marshland, enjoy the beauty of Rutajarvi and Soimalampi lakes. Pyha-Hakki National Park with 2 touristic routes is also of a great touristic interest.
A favourable ecological situation has a positive effect on the well-being attracting the wellness tourists.
Go to such restaurants in Jyvaskyla as Pollowaari and Viikinkiravintola Harald to try the dishes inspired by the traditional Finnish cuisine.
There is no nightlife in Riihivuori.