Rila
Resort type:

Country resort

Landscape:

Mountains, Lakes, Riverside, Mixed Forest, Alpine Meadows

What to do:

Mountaineering, Cycling, Downhill Skiing, Natural Parks & Reserves, Wellness Tourism, Historical & Architectural Monuments, Gliding & Paragliding, Hiking, Fishing & Spearfishing, Snowboarding, Thermal & Mineral Springs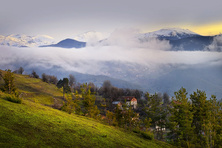 Rila is a Bulgarian city in Kyustendil Province, situated at the foot of the Rila Mountains in the southwest of the country. It neighbours Blagoevgrad and Dupnitsa. The city is 60 kilometres away from Kyustendil.
Picturesque mountain landscapes and unique nature of the region makes Rila a popular place with the ecological tourists. The tourists can go hiking, harvest herbs and watch the wild animals. There are tours to Rila National Park organized for the tourists. You will enjoy the beauty of crystal waters of the Beli Iskar Lake.
Those who prefer the excursion tourism will want to visit Rila Monastery built in the 10th century and which is now a UNESCO site. You can also go on a trip to Kyustendil, get acquainted with the historical and architectural monuments of the Byzantine period.
Fresh mountain air and favourable climate of the region have a positive effect on the wellbeing. The wellness tourists choose Rila because of its thermal sources in Blagoevgrad and Kyustendil.
In summer, Rila offers a great choice of activities for the extreme tourists. They can go biking, paragliding, hang-gliding, climbing on the Mount Musala and fishing on the Rilska River. In winter, the lovers of alpine skiing and snowboarding come to Rila Mountains.
The guests of the city can stay in Maliovitsa and Tsarev Vrah hotels. The restaurants serve typical Bulgarian dishes. We recommend such dishes as Cheshmeto and Napoli.
Go shopping at Mall of Blagoevgrad and Cuccio Bulgaria.
The nightlife is not vibrant here. The hotels have bars on site which open at night.