Roskilde
Resort type:

City resort

Landscape:

Town, Seacoast

What to do:

Culinary Tourism, Golf, Mountain Trails, Diving & Snorkelling, Wellness Tourism, Historical & Architectural Monuments, Yachting & Sailing, Hiking, Surfing, Windsurfing & Kitesurfing, Snowboarding, Festivals & Carnivals, Shopping, SPA, Nightlife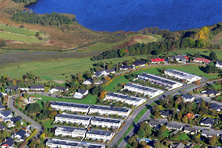 Roskilde is a Danish city and a centre of Roskilde Commune situated on the coast of the Roskilde-Fjord in the east of the Zealand Island. It has access to the Baltic Sea.
The municipality gained its fame thanks to the annual Roskilde Festival, attracting thousands of the lovers of the event tourism. Fairs, parades, concerts take place in the city during the local celebrations and festivals.
Roskilde will not disappoint those who prefer the excursion tourism. They will see unique historical and architectural monuments. The main city sight is Roskilde Cathedral. It is one of the UNESCO sites. In the Cathedral, there is a kings' of Denmark burial place. You can also take a trip to Copenhagen, which is 35 kilometres away from Roskilde, visit Christiansborg castle, Andersen house and Amalienborg palace.
The ecological tourists should definitely take a walk in Byparken City Park, enjoy Roskilde-Fjord and a hilly landscape of the suburbs, go to Hunting Landscape of North Zealand. The latter is a UNESCO candidate site.
The extreme tourists will have a wide choice of activities such as surfing, kiting, diving and sailing in the fjord region. In winter, Hedelands Skicenter opens for the active tourists who can go skiing or snowboarding there. On the resort, you will find a golf field, a bowling club and Fitness World Sports Centre.
RO's Torv mall offers a great shopping experience.
The wellness tourists should visit the Salon Unique Wellness Centre and have a massage or spa treatments.
The foodies will treat themselves to the typical Danish dishes in Mumm, Vigen and Piper Hus restaurants.
If you do not want to spend a night in your hotel room, Louis Nightclub and Garbos Bar & Natklub open their doors.