Baltic Coast
Resort type:

Beach resort

Landscape:

Seacoast, Mixed Forest

What to do:

Aquaparks, Cycling, Natural Parks & Reserves, Horse Riding, Wellness Tourism, Yachting & Sailing, Hiking, Fishing & Spearfishing, Surfing, Windsurfing & Kitesurfing, Thermal & Mineral Springs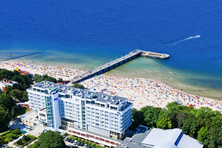 The Baltic Coast is a beach region in Poland. It stretches 500 kilometres along the Baltic Sea. The major resorts are the Kolobrzeg, the Jastrzebia Gora, the Jastarnia, the Leba, the Ustka, the Krynica Morska, the Miedzyzdroje, the Sopot, the Swinoujscie, and the Pogorzelica.
The sea air here is rich in iodine and that is why it is recommended for people who suffer asthma and other respiratory tract conditions.
In Kolobrzeg village, there are mineral springs and healthy mud containing biologically active compounds. In the context of a wellness tourism, the tourists can go hiking, biking, and horseback riding in the woods and parks of the resort. The Kolobrzeg Beach is the most famous beach on the Baltic Coast.
The city of Swinoujscie is known among the lovers of a wellness tourism due to its recreational park Zdrojowy Park. The local health resorts welcome the patients with heart diseases, musculoskeletal, and gastrointestinal conditions.
The lovers of water activities choose Leba and Krynica Morska. The tourists can go windsurfing, sailing, fishing, yachting, and kayaking.
On the territory of Miedzyzdroje village, there is the Wolin National Park of national stature. The tourists can ride four wheelers, go hiking, and trekking.
Jastrzebia Gora is a family-friendly resort. It has a well-developed sports infrastructure for children. A popular entertainment among the tourists is hand-gliding and flights on a hot-air-balloon.
A resort Sopot is well-known among the tourists. There is an Aquapark Sopot, tennis courts, and a Minigolf Club Sopot.
Keen fishermen and windsurfers choose the Hel Peninsula with its resort Jastarnia.
A city of Ustka is famous for its Ustka Lighthouse. It is a must-see sight for all the lovers of architectural sights.