Saxony
Resort type:

Country resort

Landscape:

Mountains, Broadleaf Forest, Lakes, Riverside, Coniferous Forest, Hills

What to do:

Mountaineering, Cycling, Culinary Tourism, Mountain Trails, Wellness Tourism, Historical & Architectural Monuments, Gliding & Paragliding, Amusement Parks, Hiking, Rafting & Kayaking, Fishing & Spearfishing, Thermal & Mineral Springs, SPA, Nightlife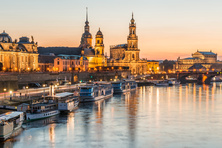 Saxony or the Free State of Saxony is a German Federal land occupying about 20.000 square kilometres in the east of the country. It neighbours the Czech Republic, Poland, Bayern, Thuringia and Saxony-Anhalt. The administrative centre of the region is Dresden.
Thanks to a great number of historical and architectural monuments, Saxony is very popular with the lovers of the excursion tourism. On the territory of Saxony, there is Muskau Park, which is inscribed in the UNESCO World Heritage List. The tourists can also go on excursion tours to Leipzig, Chemnitz and Dresden.
The fans of climbing prefer to spend their holidays in the mountains of Saxon Switzerland.
The ecological tourists are attracted by the unique nature of this region. They will see the Lichtenhain Waterfall, go on a cruise along the Elbe River or go trekking.
The extreme tourists can try their hand at rafting, fishing, paragliding and biking. There is also a chance to go hiking in the suburbs of Saxony.
Such resorts as Bad Brambach, Bad Schandau or Bad Elster have thermal sources and they attract the wellness tourists. The tourists can have a course of treatment with mineral spring water or have spa treatments.
If it is city entertainments you are after, go shopping at the malls in Dresden, have a fun time in Belantis amusement park in Leipzig or try your luck in the Spielbank Chemnitz casino.
The foodies will love to take part in cooking master-classes and go on a beer tour. They will enjoy their meals in the best restaurants of Saxonia.
At night clubs and discos in the capital city open their doors. The best are M5Club, Snowboxx, Dance Factory and Motown.