Saxony-Anhalt
Resort type:

City resort

Landscape:

Swamp, Mountains, Broadleaf Forest, Riverside, Coniferous Forest, Hills, Cliffs

What to do:

Aquaparks, Mountaineering, Natural Parks & Reserves, Wellness Tourism, Historical & Architectural Monuments, Yachting & Sailing, Hiking, Rafting & Kayaking, Fishing & Spearfishing, Shopping, SPA, Nightlife, Zoos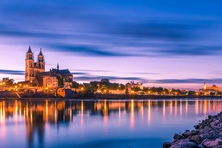 Saxony-Anhalt is one of the Federal lands in Germany. The capital city of the region is Magdeburg. The largest cities are Halle, Wernigerode, Quedlinburg, Dessau and Wittenberg.
Saxony-Anhalt is a good destination for the excursion tourism. The region preserved many medieval architectural sights. There are also museums and exhibition centres.
In Magdeburg, you will see Magdeburger Dom and the last creation of a famous architect Hundertwasser Die Gruene Zitadelle von Magdeburg. An hour drive from the capital, there is Quedlinburg, which is under UNESCO protection. This deserted medieval city attracts the lovers of ancient history. Partly destroyed houses of the city are 500-600 years old. The main sight is an Altstadt Quedlinburg medieval castle.
Do not miss a chance to visit Wernigerode Castle. The hallmark of Wittenberg is Schlosskirche.
In the region, there is a Harz National Park. The active tourists can go climbing, hiking and trekking. The Elbe River flows through the region and the tourists can go fishing, sailing or yachting. On the shore of the river, you will find a biosphere reserve, the habitat for wild beavers.
The tourists with kids will want to go to Maya Mare aqua park in Halle. You can watch wild animals in Zoologisher Garten Magdeburg. Rake your brains in an escape room Escapeventure. You will have a great shopping experience in the malls and shops of the region. In the capital you will find Boerde Park and Flora Park malls. In Dessau, there is a Gesundheitsbad spa centre offering mud therapy.
Bralo House restaurant in the capital city serves traditional dishes of the German cuisine. In Quedlinburg, you can have delicious meals for attractive prices in Mom's Burger. In Halle, go to Immergruen to try the dishes inspired by the exquisite French cuisine. In every city, you will find bars and nightclubs. In Magdeburg, you can go to Espresso Kartell.