San Anton
Resort type:

Country resort

Landscape:

Flora of the Mediterranean

What to do:

Cycling, Natural Parks & Reserves, Historical & Architectural Monuments, SPA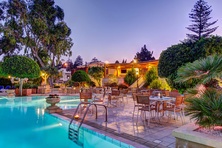 San Anton is a small resort in the centre of Malta, in Attard Municipality. The resort is close to Balzan and Lija villages.
San Anton is an ideal place for calm holidays surrounded by the beautiful nature. Staying in San Anton you can see the official Residence of the Maltese President. This is San Anton Palace. The lovers of the excursion tourism will be impressed by the Residence and a San Anton Main Chapel of Madonna del Pilar which is part of the architectural ensemble.
One of the outstanding Maltese natural sights is San Anton Gardens. They became fully available to the public at the end of the 19th century. The tourists also like to go to the Botanical Garden where they can see plants from every corner of the world. Walking in the park, one can notice many plates on the trees with the names of famous persons who took part in planting the trees.
If you want to spend more time in San Anton you can stay in the only and extremely fashionable Corinthia Palace Hotel & Spa situated right in front of the Presidential Residence. The hotel has a spa zone on site. After long walks in the city, the guests of the hotel can swim in a pool, relax in a Finnish sauna or a Turkish hammam. The tourists can also play tennis, go biking or go to a gym.
Every year San Anton hosts Malta Horticultural Show. In summer, on the main stage in the Presidential Gardens theatrical, dancing and music performances take place every day.
San Anton is situated right in the centre of the historical Malta so the city can serve as a starting point for an excursion tour to the most important places of the country. The tourists can choose a tour to "the silent" city Mdina or to culturally diverse Valetta.