Sankt Polten
Resort type:

City resort

Landscape:

Town, Riverside

What to do:

Cycling, Natural Parks & Reserves, Historical & Architectural Monuments, Hiking, Sport Tourism, Shopping, Nightlife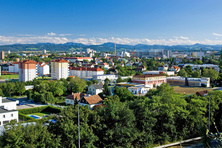 Sankt Polten is the capital of Lower Austria. Lower Austria is situated in the north-eastern part of the country. The city is situated on the shore of the Traisen River.
The lovers of excursions and city entertainments will love the city. The starting point of all the excursions is the Town Hall Square. Its hallmark is Holy Trinity Column. At the square, you will see the Bishop's House built in the 17th century and Carmelite Monastery. The Franciscan Church of the 18th century was built in a Rococo style and you will find it not far from the square.
Do not miss a chance to visit one more square of Sankt Polten, the Cathedral Square. There is Sankt Polten Cathedral built in the 12th century, which was rebuilt several times. The most beautiful building in a Modern style is Olbrich-Haus. If you do not mind going out of town, then you can visit Pottenbrunn Castle.
Kamptal Gardens is a fine place to spend the time with your family. On the territory of the park, there are paths for riding bikes and Segways. You can rent a Segway in Stoll on Tour. You can see the main sights of the city by riding a tram. This service is available from April to December.
For the lovers of sports, we recommend coming to the city in September because the city hosts a tennis tournament ATP.
Sankt Polten is a true paradise for shopaholics. They will find dozens of malls, markets and brand boutiques. The most popular malls are Merkur centre Sud, Promenade, Traisenpark, Neues Forum. You can go to NXP Bowling to play bowling. Stay up all the night long and have a great time in Frei Raum club.
The foodies will treat themselves to the dishes inspired by the traditional Italian cuisine in the La Dolce Vita restaurant. The Greek menu is offered in Rhodos. Cafe Schubert serves the Austrian dishes.