Zaragoza
Resort type:

City resort

Landscape:

Town, Mountains, Riverside, Steppe, Flora of the Mediterranean

What to do:

Cycling, Culinary Tourism, Golf, Downhill Skiing, Ancient Monuments of Civilization, Horse Riding, Boat Trips, Historical & Architectural Monuments, Yachting & Sailing, Hiking, Shopping, Nightlife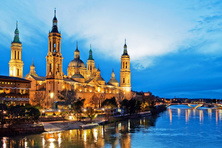 Zaragoza or Saragossa is a Spanish city in the northeast of the country. It is the capital of Aragon autonomy. The city is situated on the Ebro River and surrounded by the mountains on all sides.
Saragossa is the centre of the excursion tourism. In the city, you will see the monuments belonging to four cultures: Arab, Roman, Jewish and Christian. The symbol of the city is the Basilica of Our Lady of the Pillar. A true masterpiece of the Renaissance is La Seo Catedral in a Gothic style. Aljaferia Palace is a hallmark of the Muslim culture. Those who are interested in archaeology and ancient civilizations will want to see the ruins of the Roman Walls in the suburbs of Saragossa.
The active tourists can go biking and horseback riding, hiking or trekking. You can learn the basics of the horseback riding at Hipica Parque del Agua. There are cruises along the Ebro River organized for the tourists. You can also go kayaking or canoeing on the river. Boat tours are organized in EbroNAUTAS.
The tourists with kids should not miss a chance to visit Chiqui Park Parque de Karla. You will spend a great time together in River Aquarium. Make your holidays even more interesting playing tennis, golf or squash. Try your luck in gambling at one of the casinos of Saragossa.
Shopaholics can go shopping at a large city mall Puerto Venecia.
The foodies will enjoy a popular dish in Saragossa which is called bacalao al ajoarriero. This dish is served in Taberna La Piedra.
If you do not want to spend the night in the hotel room, will go to Luces de Bohemia nightclub.