Saranda
Resort type:

Beach resort

Landscape:

Town, Seacoast, Plain, Hills, Bay Coast, Flora of the Mediterranean

What to do:

Diving & Snorkelling, Natural Parks & Reserves, Historical & Architectural Monuments, Caves, Surfing, Windsurfing & Kitesurfing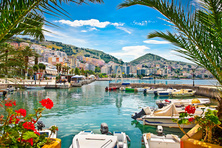 Saranda is a resort in the Prefecture of Vlora in Albania. It is situated on the coast of the Ionian Sea in front of the Corfu Island.
Thanks to its soft climate, comfortable beaches and warm water of the sea, Saranda is very popular with the families with kids and the lovers of beach holidays. The active tourists can try different water activities such as diving, snorkelling, surfing and windsurfing. At night, the tourists can walk along the beautiful beach promenade.
Those who are interested in the history and architecture of the regions also choose Saranda. There are no important sights in the city, but the lovers of the excursion tourism can go on a trip to the ruins of the old city Butrint or Foinike. Today Butrint is the archaeological museum inscribed in the UNESCO World Heritage List. In the city of Foinike, you will have a chance to learn more about the history of Albania.
There are many natural sights in Saranda. The tourists can visit Konispolskie Caves and Spring Blue Eyes.
Cozy cafes and restaurants offer the best dishes of the Albanian cuisine.