Svendborg
Resort type:

Beach resort

Landscape:

Town, Seacoast

What to do:

Culinary Tourism, Golf, Natural Parks & Reserves, Boat Trips, Historical & Architectural Monuments, Yachting & Sailing, Hiking, Fishing & Spearfishing, Shopping, Nightlife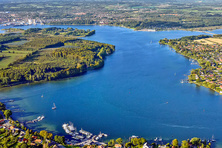 Svendborg is a Danish port city in Svendborg Municipality. It is situated on the Funen Island in the central part of South Denmark.
Svendborg is the main destination for the excursion tourism. It also attracts the lovers of yachting. A dockyard has been working in the city since the 15th century. Those who prefer beach holidays should go to the Christiansminde Strand City Beach. Yachts and motor boats stand at the pier Svendborg Lystbaadehavn. The tourists can go on sea cruises, fishing, ride catamarans and scooters.
Anne Hvides Gard sawmill is a hallmark of the city. It was built in the 16th century. Today, there is Svendborg Museum. In the city, you will find a lot of old churches and cathedrals. The tourists can visit Valdemars Castle, where an offspring of Danish admiral Juel-Brockdorff lives. You will learn more about the yachting and sailing in Lystsejlads museum.
The park ensembles of the city will impress the ecological tourists. Trekking tours in Gorilla Park Svendborg are organized for the guests of the city. A popular trekking route is Ohavsstien. It includes a visit to such parks as Drejo and Vejlen Paa Taasinge.
The lovers of golf are welcomed at Braendeskovgaard Golf. At Thuroe Minigolf, you can play mini-golf. You can also go to Bowl'n'Fun Svendborg.
In Glasmagerne, the tourists will find unusual things which will remind them of their trip to the city.
The main dish on the Danish table is a huge Smørrebrød which consists of a piece of bread with various fillings. You can try it in Restaurant Svendborgsund. In Muei's Thaifood, you will treat yourself to the Thai cuisine. If you prefer the European cuisine, go to Bregninge Molle Restaurant. Jettes Diner serves delicious meals for attractive prices. You will have a great time at night in Crazy Daisy.