Hsinchu
Resort type:

City resort

Landscape:

Town, Seacoast, Lakes, Riverside

What to do:

Cycling, Golf, Natural Parks & Reserves, Historical & Architectural Monuments, Amusement Parks, Hiking, Sport Tourism, Fishing & Spearfishing, Shopping, Nightlife, Zoos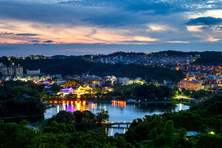 Hsinchu is a city in Taiwan. It is situated in the north-west of the country.
The city is popular with the ecological tourists and the lovers of active city holidays. The historic sight of the city is the East gate. Bamboo Lotus Temple is a significant Buddhist architecture monument. There is a Gothic-style church for the Catholics in Hsinchu Beida Church. The tourists can also cross the Harp Bridge and visit an amusement park near Nanliao Port.
In Hsinchu, there are local museums, galleries and exhibition centres. If you come here with children you should visit Hsinchu City Fire Museum. The building of the museum was a fire department in the past. Today, the expositions contain old fire fighting machines, hydrants and firefighter men uniform. But probably the most interesting thing in the museum is an earthquake model.
Green gardens or parks are as though meant for walking and enjoying the quietness. More active tourists can go trekking or biking in Green Grass Lake. On the lake, the tourists can have a picnic or go fishing. A hiking route Eighteen Peaks is popular with the tourists. In a small Hsinchu Zoo, you can watch lions and crocodiles. The tourists with children will enjoy their time on a farm Green World. On the territory of 70 Ha, there is a botanical garden, a mini Zoo, lakes and several theme parks. There are 48 different amusement rides on the farm.
If you like golf, you are most welcomed in Happy Golf Club. In Vieshow Cinema, one can watch the latest Asian movies. You can also see performances in Hsinchu Performing Arts Center. Enjoy bowling in Big City Bowling Alley.
In a mall Big City, the tourists will find a lot of Taiwanese, Chinese and European goods. Shinkong Mitsukoshi Mall offers seasonal sales. On Houzhan Tourism Night Market, the tourists will find authentic handmade souvenirs.
The restaurant Promenade serves traditional Taiwanese dishes. If you do not want to spend a night in your hotel room go to the night club Barfly.