Scania
Resort type:

City resort

Landscape:

Broadleaf Forest, Seacoast, Lakes, Plain, Riverside, Hills

What to do:

Aquaparks, Culinary Tourism, Natural Parks & Reserves, Casinos, Wellness Tourism, Historical & Architectural Monuments, Shopping, Nightlife, Zoos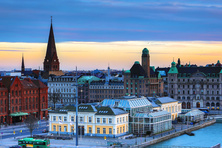 Scania is a historic province in southern Sweden, situated in Gotaland Region. The province borders Halland, Smaland and Blekinge. It has access to the Baltic Sea. The Oresund Strait separates Sweden form Denmark. The capital city of the province is Malmo.
Families and the lovers of the excursion tourism choose Scania. They are attracted by the appearance of the old city, Gothic churches and medieval castles.
In Malmo, the tourists can visit Scania Dance Theater and Malmo Opera, which is the largest opera hall in Europe. In the city, there is Park Museum Vanos which houses collections of the greatest national artists.
Malmo is well-known for its comfortable beaches, for example, Ribersborg Beach.
If you stay in Lund, do not miss a chance to visit the Lund Cathedral and in Landskrona, you will see Glimmingehus Castle.
One of the most mysterious sights in the province is Ales Stenar, a megalithic monument similar to the legendary Stonehenge.
The ecological tourists should definitely go to such parks as Stenshuvuds Nationalpark, Soderasens National Park and Brosarps Backar.
The tourists with kids will have a great time together in Tropikariet Zoo in Helsingborg and Ystad Animal Park in Ystad. In Helsingborg, there is also Aqua Resort.
For those who prefer the wellness tourism, there is a Salt Creek Spa in Ystad. In Malmo, they can go to Pranari Thaimassage and Chetewan Thai Medical Massage Malmo.
You will have a great shopping experience in such malls as Emporia Shopping Center, Form Design Center, Formargruppen. Vollmers, Bastard and Arstiderna I Kockska Huset restaurants serve traditional cuisine of the region.
At night, Pepes Bodega club opens its doors. You can try your luck in Casino Cosmopol.