Skopje
Resort type:

City resort

Landscape:

Town, Mountains, Valley, Broadleaf Forest, Riverside, Coniferous Forest

What to do:

Aquaparks, Culinary Tourism, Natural Parks & Reserves, Wellness Tourism, Historical & Architectural Monuments, Gliding & Paragliding, Hiking, Sport Tourism, Festivals & Carnivals, Shopping, Nightlife, Zoos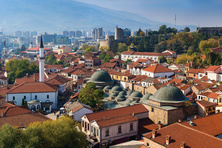 Skopje is an old city and the capital of the Republic of Macedonia. The city is situated in the north of the country on the shore of the Vardar River. The city is close to the Serbian border.
The lovers of the excursion tourism will love to have vacations in Skopje and get acquainted with the history and the architecture of the region. The excursion tour starts with the old city where you will see such sights as Skopje Fortress, Holy Savior Church, Daut Pasha Haman and Skopje Aqueduct. During the excursion, the tourists will visit the Feudal Lords Tower, Sultan Murat Mosque, Fortress Markov Cooley and Stone Town Kuklitsa.
Those who want to learn more about the city and the region, should visit such museums as the Museum City of Skopje, Archaeological Museum of Macedonia, Museum of Macedonian Struggle.
The ecological tourists will enjoy their walk along the Matka Lake and in the Vodno Mountain. There are also Explore Macedonia Daily tours organized for the tourists.
The extreme tourists should not miss a chance to visit 2Glide Tandem Paragliding and Heli XC Paragliding clubs. The active tourists can go on Free Skopje Walking Tours, Skopje Daily Tours and Skopje Walks.
You will have a great time in Climbing Stadium Karpos and ART Karting Centar. The tourists with kids should not go past Skopje ZOO or Aqualand Skopje.
Macedonian National Theater, Drama Theatre Skopje, Macedonian Opera and Ballet welcome the lovers of art. For the wellness tourists, there is Lubarda Massage Sanctuary.
Those who prefer the event tourism will want to participate in the Skopje Jazz Festival, Skopje Summer Festival and Skopje Poster Festival.
Skopje City Mall, Ramstore Mall, Skopje Old Market and Badesten Market invite everyone to make purchases. The foodies will enjoy their meals in Skopski Merak, Peliste and Vodenica Mulino restaurants. At night, Skopje Bar Crawl, Van Gogh Bar, Shot Bar Bezisten opens their doors.