Sogn og Fjordane
Resort type:

Country resort

Landscape:

Mountains, Broadleaf Forest, Seacoast, Lakes, Riverside, Coniferous Forest, Cliffs

What to do:

Mountaineering, Culinary Tourism, Downhill Skiing, Mountain Trails, Diving & Snorkelling, Natural Parks & Reserves, Historical & Architectural Monuments, Hiking, Snowboarding, Festivals & Carnivals, Shopping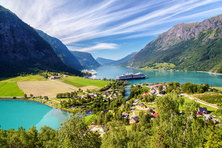 Sogn og Fjordane is a Norwegian province with the total area of more than 18.500 square kilometres in Vestlandet Region. It is situated in the west of the country. The province has access to the Norwegian Sea. It neighbours Hordaland County, Oppland County, Buskerud County and More og Romsdal County. The administrative centre is the city of Hermansverk in Leikanger Municipality.
Natural diversity and closeness to the sea attract the ecological tourists. They can go on a group tour to the local waterfalls, including Brekkefossen Waterfall, Tvindefossen Waterfall and Vettisfossen Waterfall. Tours to the Utladalen Valley and the territory of Bergsetbreen Glacier are also popular with the tourists.
The guests of the capital city can go shopping at Amfi Sogningen and Clas Ohlson malls. At night, mostly bars open their doors in Hermansverk.
The coastal regions attract the extreme tourists. They can go diving or trekking and climbing in the Mount Molden or the Mount Skala. Those who love snowboarding and skiing are welcomed in Stryn Sommerski, Vik Ski Centre, Harpefossen.
The event tourism is not well-developed in the province. The locals celebrate such public holidays as the Norwegian Constitution Day and Saint Stephen's Day.
During an excursion tour, the tourists will see such historical and architectural monuments of Norway as wooden Urnes Stave Church which is under UNESCO protection. Do not miss a chance to see the Olden Old Church and Blaaflat Farm.
In the capital city, the foodies should visit such restaurants as Malin, Timber and Compagniet.