Struga
Resort type:

Beach resort

Landscape:

Town, Mountains, Lakes, Riverside, Cliffs, Flora of the Mediterranean

What to do:

Culinary Tourism, Golf, Diving & Snorkelling, Wellness Tourism, Historical & Architectural Monuments, Yachting & Sailing, Hiking, Surfing, Windsurfing & Kitesurfing, Festivals & Carnivals, Nightlife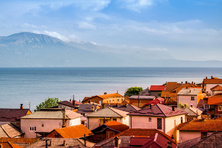 Struga is a Macedonian city in Struga Municipality, Southwestern Statistical Region. It is situated on the shore of the Ohrid Lake not far from the Albanian border. The city is 15 kilometres away from Ohrid and 170 kilometres away from Skopje.
The stunning beauty of the Ohrid Lake, which is under UNESCO protection, attracts the ecological tourists to Struga. They can walk along the shore of the lake and explore a rich underwater world of the deepest water basin in the country. The tourists can also visit Galicica National Park.
The guests of the city can stay in a hotel, a camping or a private guest house.
The local beaches are as though created for calm family vacations with kids. The extreme tourists, however, will also not be disappointed. The active tourists can try their hand at yachting, sailing, windsurfing, kiting, diving or snorkelling. They can go on a boat trip, play golf or volleyball.
Those who prefer the event tourism will have a possibility to take part in one of the festivals and celebrations. For example, the Struga Poetry Evening Festival attracts the lovers of poetry from all over the world.
If no holiday is complete for you without excursions, in Struga you will get acquainted with such historical and architectural monuments as Saint George Church, Halveti Teke, Miladinovci House. You can also take a trip to Ohrid to visit Samuel's Fortress, Monastery of Saint Naum and Ancient Theater of Ohrid.
A favourable ecological situation and fresh air have a favourable effect on the wellbeing. This is the reason why the city is so popular with the wellness tourists.
Such restaurants as Aquaris, Riben Restoran Dva Bisera and Taj Mahal offer the dishes inspired by the Mediterranean cuisine. The foodies will enjoy the fish cooked according to the local recipes.
The city is calm at night but there are bars in some hotels.