Sudeten
Resort type:

Country resort

Landscape:

Mountains, Broadleaf Forest, Riverside, Coniferous Forest

What to do:

Cycling, Downhill Skiing, Mountain Trails, Natural Parks & Reserves, Wellness Tourism, Hiking, Thermal & Mineral Springs, Religious Pilgrimage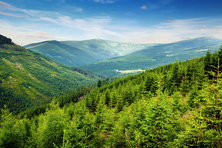 Sudeten is a mountain range on the territory of Poland. The highest peak is the Snow Mountain. There are dozens of ski and spa resorts in the region.
The fans of the alpine skiing prefer to stay in Szklarska Poreba, Zieleniec and Karpacz.
The wellness tourists prefer such spa resorts as Ladek Zdroj, Polanica Zdroj, Duszniki Zdroj and Swieradow-Zdroj.
In a small town of Cieplice Slaskie Zdroj, you will find spring sources which have been known since old times. People come here to treat bone, joint, kidneys and nervous system diseases.
Situated at the foot of the Park Mountain, Kudowa-Zdroj resort offers thermal springs and clinics which specialize in prevention and treatment of locomotor diseases, obesity, heart or endocrine system diseases. Kudowa-Zdroj is an ideal place for those who loves biking and hiking. This resort is a starting point for the tourists who want to explore the mountains and go trekking.
Not far from Kudowa-Zdroj, there is the city of Vambeshitse. This is an exile for the pilgrims. They come here to worship the Vambezhitse Mother of God. The icon is kept in a Basilica built in a Baroque style.
In Karpacz, the tourists can visit museums.
In Sudeten, there is Karkonosze National Park which is a UNESCO biosphere reserve. The park lies between the Oder River and the Elbe River. The tourists can watch rare birds and animals.