Sundsvall
Resort type:

Country resort

Landscape:

Town, Broadleaf Forest, Lakes, Riverside, Coniferous Forest, Bay Coast

What to do:

Culinary Tourism, Natural Parks & Reserves, Boat Trips, Wellness Tourism, Historical & Architectural Monuments, Gliding & Paragliding, Yachting & Sailing, Sport Tourism, Rafting & Kayaking, Fishing & Spearfishing, Surfing, Windsurfing & Kitesurfing, Shopping, SPA, Nightlife, Zoos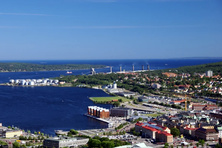 Sundsvall is a Swedish city and the administrative centre of the Sundsvall Municipality in Vasternorrland County. It's situated at the Gulf of Bothnia in the central part of the country. The city is 375 kilometres away from Stockholm. Its total area is about 30 square kilometres.
Sundsvall is the main destination for the people who want to escape the noise and enjoy calm beach holidays. The extreme tourists can try their hand at windsurfing, yachting, rowing, sea fishing, kiting, parasailing and sailing. Anyone can have some diving lessons. There is everything you may need for hang-gliding, paragliding, rope jumping and parachuting.
The ecological tourists should definitely go to the Kvarken Archipelago and High Coast which is inscribed in the UNESCO World Heritage List. The tourists with kids will have a great time in Junsele Zoo.
There are no historical or architectural monuments which well worth attention. If no holiday is complete for you without excursions, you can go on a trip around the County. You will see Alno Old Church and Gidea Goat farm. Visit the Sweden capital and you will see the Royal Domain of Drottningholm, explore the artefacts found during the excavations of Birka and Hovgarden. These are all UNESCO sites.
The lovers of the event tourism come to the city to participate in the annual Gatufesten Festival. Karma Spa wellness center offers relaxing and toning spa treatments.
You can go shopping at a Birsta City mall and have a great time in such nightclubs as Memento Palace or Decadence. En Liten Krog and Bishops Arms restaurants serve traditional Swedish dishes.