Chengdu
Resort type:

City resort

Landscape:

Town, Mountains, Valley, Broadleaf Forest, Lakes, Plain, Riverside, Coniferous Forest

What to do:

Aquaparks, Cycling, Culinary Tourism, Golf, Mountain Trails, Natural Parks & Reserves, Wellness Tourism, Historical & Architectural Monuments, Gliding & Paragliding, Festivals & Carnivals, Shopping, SPA, Nightlife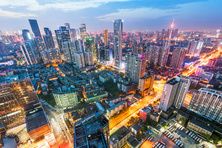 Chengdu is the capital city of Sichuan Province situated in the south-west of the country on the Minjiang River. Sichuan Province borders Jiyang County, Ya'an County, Deyang County and Meishan County. The total area of the municipality is 12.000 square kilometres.
The rich history and a lot of cultural monuments attract the lovers of excursion tourism to Chengdu. The tours are arranged to Wuhou Memorial Temple and Jinsha Archaeological Site. The tourists can also visit Dujiangyan Irrigation System, which in 2000 was inscribed on the UNESCO World Heritage List.
Chengdu can also offer something for the ecological tourists. They can visit Jiuzhaigou National Park and Chengdu Researching Center of Giant Panda Breeding. You will enjoy the nature in the out-of-town districts of Chengdu.
Spending your holidays in Chengdu, you will have a great shopping experience at the local malls. Do not go past an amusement park Chengdu Happy Valley and an aqua park Paradise Island.
For the extreme tourists, there is everything they need for paragliding and parachuting, trekking, biking and golf.
In Chengdu anyone can take a training course of acupuncture or relax in the local spa
centre popular among the lovers of a wellness tourism.
Public holidays and different festivals make Chengdu a popular centre of the event tourism. The most popular holiday here is, of course, Chinese New Year.
The foodies will try exotic Chinese dishes in the local restaurants and eateries.
In the city, there are a lot of clubs and bars where you can spend the night. The most popular are Underground Bar and Lotus Palace Night Club.