Salen
Resort type:

Ski resort

Landscape:

Mountains, Lakes, Riverside, Coniferous Forest

What to do:

Cycling, Golf, Downhill Skiing, Mountain Trails, Natural Parks & Reserves, Horse Riding, Wellness Tourism, Amusement Parks, Hiking, Rafting & Kayaking, Snowboarding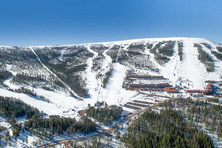 Salen is a large Swedish ski centre in Malung-Salen Municipality and Dalarna County. It is situated in the southwest of the country not far from the Norwegian border. The city is 400 kilometres away from Stockholm. Its total area is about 1 square kilometres.
This is an ideal place to spend the holidays with kids. There are many playgrounds, a snow castle and the largest snowman in the world.
Well-equipped broad and low trails attract to Salen beginners in skiing and the fans of snowboarding. More experienced skiers should go to Tandadalen. Hegfelet village is a good place to escape people and noise.
In summer, the extreme tourists can go biking and hiking, rafting, horseback riding and swimming in the local lakes. They can also play golf.
The event tourism is maintained in the city thanks to the annual Salen Winter Games.
Lush vegetation and unique mountain landscapes attract the ecological tourists. The tourists can spend a lot of time outside, collect herbs, go fishing. They will also want to go to Fulufjallet National Park.
In Salen, you will not find any historical and architectural monuments. If it is the excursion tourism you are after, then you should take a trip to the administrative centre, the city of Falun. There you will see Falun Mine and Carl Larsson Garden.
You can buy souvenirs and sports equipment in the shops of the resort. But you will have a greater shopping experience at Promenaden mall in Falun.
The wellness tourists come here to breathe mountain air.
The foodies will enjoy their meals in Bianchi, Mezzo and Fagelboet restaurants.
At night bars and clubs of Tandadalen open their doors.