Sor-Trondelag
Resort type:

City resort

Landscape:

Mountains, Broadleaf Forest, Seacoast, Lakes, Riverside, Coniferous Forest, Hills

What to do:

Downhill Skiing, Mountain Trails, Natural Parks & Reserves, Horse Riding, Wellness Tourism, Historical & Architectural Monuments, Gliding & Paragliding, Yachting & Sailing, Hiking, Rafting & Kayaking, Festivals & Carnivals, Shopping, Nightlife, Religious Pilgrimage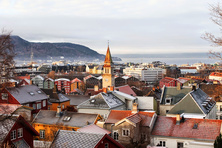 Sor-Trondelag is a Norwegian Province in Trondelag Region situated in the central part of the country. It has access to the Norwegian Sea. It borders Nord-trondelag County, Hedmark County and More og Romsdal County. The capital city of the Province is Trondheim.
Staying in this Province, the lovers of the excursion tourism will get acquainted with the expositions of the local museums, see historical and architectural monuments of Trondheim. Excursion tours are organized for the tourists, which include a visit to the Stiftsgarden Kings Residence, Archbishop's Palace and Kristiansten Fortress. Roros Mining Town and its Circumference which is under UNESCO protection are of a special importance for the province and the whole country.
The pilgrims will have a possibility to see Saint Olaf's Church Ruins, visit Nidaros Cathedral and Ilen Church.
The annual Trondheim Jazz Festival gathers thousands of music fans and the lovers of the event tourism in one place.
You will have a great shopping experience in stores and boutiques in the capital and at shopping centres in Bakklandet District. Such malls in Trondheim as Byhaven and Mercur are very popular with the tourists. At night, Gossip, Karma Launge, Studio 26 clubs opens their doors.
The extreme tourists can go rafting, horseback riding, paragliding and trekking. In winter, the active tourists prefer to stay in Skistua and Knyken ski resorts.
The clinics in Trondheim attract the wellness tourists.
The unique nature of the Province and the beauty of Trondheimsfjord are the reason why the ecological tourists come here.
Traditional Norwegian cuisine is served in such restaurants as Sottitre and Agot Lian.