Tamil Nadu
Resort type:

Beach resort

Landscape:

Mountains, Plain, Riverside, Tropical Forest, Hills, Bay Coast

What to do:

Cycling, Culinary Tourism, Diving & Snorkelling, Natural Parks & Reserves, Historical & Architectural Monuments, Gliding & Paragliding, Amusement Parks, Hiking, Rafting & Kayaking, Fishing & Spearfishing, Surfing, Windsurfing & Kitesurfing, Festivals & Carnivals, Shopping, Nightlife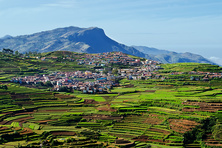 Tamil Nadu is an Indian state with the total area of more than 130.000 square kilometres situated in the south of the country. It borders Karnataka State, Kerala State and Andhra Pradesh State. It is washed by the Laccadive Sea and the Bay of Bengal. The capital city is Chennai.
The sea resorts of the state will find favour both with those who prefer calm vacations and the extreme tourists. The longest beach in the country is Marina Beach. Almost 12 kilometres of the coast is as though specifically designed for the surfers, kiters and windsurfers. It is a risk to swim in this place because of a heavy current. The better place for diving, swimming and snorkelling is the city of Rameswaram with its calm waters or numerous corals. The couples will enjoy the romantic walk along the Kanyakumari Beach.
In Tamil Nadu, the active tourists can go sea fishing, parasailing, rafting or kayaking on the Kaveri River. There are also hiking and biking routes.
If you do not want to stay in a hotel room at night, you can go to such nightclubs in Chennai as Gatsby 2000, Dublin, Flame Le Club and Pasha. You will have a great shopping experience at such malls as Chennai Citicentre, Forum Vijaya and Spencer Plaza. The foodies will enjoy their meals in Dakshin, Peshawri and Sarvana Bhavan restaurants.
The annual Chennai International Film Festival helps to develop the event tourism.
Those who prefer the excursion tourism will get themselves acquainted with such UNESCO sites as Group of Monuments at Mahabalipuram, Great Living Chola Temples and Mountain Railways of India. The local historical and architectural monuments are Kapeleeshwar Temple or Sri Parthasarathy Temple.
The ecological tourists should definitely visit the Nilgiri Biosphere Reserve. The wellness tourists will have a possibility to learn more about the Ayurveda medicine.