Telc
Resort type:

City resort

Landscape:

Town, Lakes, Plain

What to do:

Cycling, Golf, Horse Riding, Historical & Architectural Monuments, Hiking, Religious Pilgrimage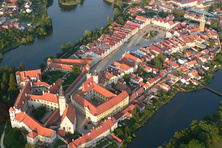 Telc is the first city-museum in the Czech Republic which was inscribed on the UNESCO World Heritage List.
Telc is a paradise for the lovers of the excursion tourism. Start your tour from exploring unique buildings in the Historic Center of Telc. You will see, for example, Telc Castle built in the 14th century in the Renaissance style. The city preserved the ruins of the fortress wall built in the 13th - 14th centuries.
Amazing buildings in the Baroque and the Renaissance style are situated at the Zacharias Center Square. They as though wait for you to take a picture of them. Pay a special attention to the houses with numbers 16 and 61. The walls of the buildings are decorated with frescoes in a rare sgraffito technique. Two fountains at the square are true masterpieces of art. At the square, you will also see the Town Hall and the Marian Column.
Not far from the square, on the lake, there is the Old Town. An embankment leads to the Town, decorated with the Saints Statues in the Baroque style. In Telc, you can also see another Square of Our Lady and the Chapel of Our Lady.
In the city, there are many churches built in the 15th - 17th centuries in different architectural styles. In Church of Saint James, the religious tourists can worship the ashes of Zacharia Hradec. The oldest religious building in the city is the Church of the Holy Ghost of the 13th century. The total height of the city is 49 meters.
The active tourists can go on a horseback riding and biking excursion tours in the suburbs of Telc. You can book horseback riding in Marlenka Rasna. Anyone can play golf in Golf Resort Telc, which is situated 2 kilometres away from the city.
In the outskirts of the city, you will find a Museum Technician. Its exposition includes the examples of old machines and equipment.
In Restaurace U Marusky, you will try traditional Czech cuisine. Italian pizza is served in Pizzeria Italia. Cukrana Celerin is a fast-food eatery.