Tibet
Resort type:

Country resort

Landscape:

Mountains, Lakes, Riverside, Hills

What to do:

Mountaineering, Cycling, Mountain Trails, Natural Parks & Reserves, Wellness Tourism, Historical & Architectural Monuments, Hiking, Caves, Rafting & Kayaking, Safari, Thermal & Mineral Springs, Religious Pilgrimage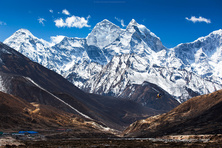 Tibet is a cultural and religious autonomy in the People's Republic of China. The capital city is Lhasa. Tibet is situated in Central Asia on the Tibet Plateau.
This region is very popular with the pilgrims and the followers of Buddhism. The lovers of ancient history and architectural monuments also come here. During their stay in Tibet, the tourists will see many sacral holy places: palaces, temple complexes and monasteries.
A hallmark of Tibet is Potala Palace. It I situated on the hill in the city of Lhasa and occupies a territory of 360.000 square meters. During an excursion, the tourists will see the Red Palace and the White Palace built in the 17th century, many stupas, temples, places for praying, statues of gods. Today, there is a museum in the complex storing jewellery, ritual items and books.
A true holy place for the Buddhism followers is Chogyal Drupuk. This is the cave where Songtsen Gampo, the king who brought Buddhism to Tibet, used to meditate.
Travel China Tibet prepared trekking and hiking routes for the active tourists. The tourists can go climbing Krola glacier, mountain biking or ride a four-wheeler. You can also try and conquer the Mount Kailash. The lovers of speleology will want to go down to Chimpu Caves and Zhayeba Cave Group. In Nakqu Racecourse, there are biking paths. For the ecological tourists, there are Tibet Highland Tours. You can improve your health by swimming in Kangbu Hot Springs and Dezong Hot Spring. The active tourists can go yachting and kayaking on the Yamdrok Yumtso Lake.
You can go shopping at TMSC Mall.
You can try Tibetan dumplings Momo in Tibetan Family Kitchen. Yummy, but inexpensive meals are served in DingFeng Cafe. Maji' ami Club opens its doors at night.