Pacific Coast
Resort type:

Beach resort

Landscape:

Mountains, Jungle, Oceanfront, Tropical Forest, Volcanoes

What to do:

Culinary Tourism, Mountain Trails, Diving & Snorkelling, Natural Parks & Reserves, Boat Trips, Wellness Tourism, Historical & Architectural Monuments, Yachting & Sailing, Hiking, Caves, Rafting & Kayaking, Surfing, Windsurfing & Kitesurfing, Thermal & Mineral Springs, Festivals & Carnivals, Nightlife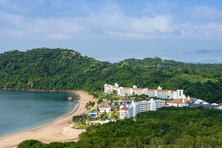 Pacific Coast is a beach resort in the central part of Panama situated in the Pacific Ocean not far from the capital city.
The coastline of the resort extends 70 kilometres. The nearest to Panama City and the most popular beach is Playa Bonita Beach. It is well-equipped and has an excellent infrastructure. Both families with kids and young people prefer o spend time here.
Remote beaches of the Pacific Coast are popular with the lovers of outdoor activities and the extreme tourism. They can try surfing, kiting, windsurfing, snorkelling and diving. There is also everything you may need for yachting, sailing and rafting. Canopy tours, trekking and cave tours are also organized for the tourists.
Thermal springs in El Valley de Anton attract the lovers of the wellness tourism to the Pacific Coast.
The ecological tourists have a chance to watch wild animals and go hiking in the tropical forest in Soberania National Park, which is 40 kilometres away from the capital city. There are special ecological hotels for the tourists here.
Panama City regularly holds exhibitions, festivals, carnivals and celebrations attracting the lovers of the event tourism.
If it is the excursion tourism you are after, you can go on an exotic tour along the Panama Canal or on a sea cruise to the Taboga Island, get acquainted with the historical and architectural monuments, visit the temples or the museums of the region. Panama Cathedral and Summit Botanical Gardens are definitely worth seeing.
The foodies will enjoy the dishes of the exotic Panama cuisine in the restaurants in the capital city. The lovers of the nightlife will have a great time in the discos scattered all around the coast.