Panama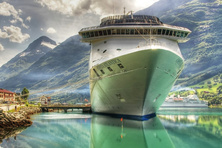 The Republic of Panama is situated on the Isthmus of Panama connecting South America and Central America. The country borders Colombia and Costa Rica. The capital is Panama City.
The climate in Panama is sub-equatorial. The best time for visiting Panama is from December to April when a dry season starts and the temperature and humidity is comfortable.
The official language is Spanish. Almost 14% of the population can speak English. The local Indians speak the Spanish dialects. 
Around 85% of the Panamians are the Catholics, 10% are the Protestants and near 5% propagate the Islam.
The beaches on the Pacific Coast are the pride of Panama. The most popular of them are Coronado Beach, Taboga Island Beaches, Isla Coiba, Las Lajas Beach and the beaches of the resort Bocas del Toro. Panama is known for its great facilities for beach holidays, diving, surfing, and rafting. Contadora Island is an ideal place for underwater hunting and fishing. Beside water entertainments, the tourists can quad biking, safe jumping from bridges, parachuting and gliding.
Panama is the main destination for all the lovers of the ecological tourism. Each traveler can enjoy the untouched Panama nature in the national parks and reserves. The most visited places in Panama are the Chagres National Park, Darien National Park, Soberania National Park, San Blas and Grand islands.
Go to the capital city, Colon, Portobelo and Port of Cristobal to see the historical and architectural monuments.
In Achuputu and Cabanas Coco Blanco, one can learn about the everyday life of the Aborigines, their culture and legends. 
The shoppers will be happy to know that in Panama, there is the second large Free Trade Zone where one can buy clothes, electronic devices, cosmetics and other products for attractive prices. The main shopping malls one can find in Panama City and Chitré.   
Get in
For the tourists from CIS countries the most convenient way to travel to Panama is a flight.
By Plane
There are no direct flights between CIS countries and Panama. The travelers have to take transit trains with a stop in the USA, Havana and Canada. 
The CIS citizens can take a flight with a transit in the European hub airports (Madrid, Amsterdam, Frankfurt) or in the hub airports in the countries of Latin America (Argentina, Brazil, Peru, Cuba).
Iberia offers flights from Russia to Panama with a stop in Madrid and KLM Airlines flies through Amsterdam.
The Europeans can take a flight from any EU country.
By Land
There is a road connection between Panama and the large cities of the USA and Latin America. One can also take a bus from these countries to get to Panama. 
Visa
If the aim of the citizens of CIS and EU countries is tourism or visiting the relatives, they do need a visa. They can stay on the territory of the country for 90 days visa-free. The tourists will just need an international passport and a document confirming financial sufficiency. 
Customs
The travelers can import in Panama duty-free:
perfume;
gifts the total cost of which does not exceed 50 US dollars;
alcohol and tobacco.
The tourists are allowed to import and export currency without any restriction. The sum exceeding 10.000 US dollars must be declared. Besides, the tourists must declare gold and golden products.
To bring in pets or plants, a tourist must have a permit of the phyto-sanitary services.
It is prohibited to export:
fruits and vegetables;
animals and seafood;
perishables;
rare species of animals and birds. 
Cuisine
The staple food in Panama is meat, beans, rice, corn and spices.
The cornerstone meat dishes in Panama are Ceviche (marinated meat stewed with vegetables), Carimanolas (marinated meat and yucca), Saus (marinated pork). Do not leave Panama without trying Tamales (meat wrapped in banana leaves and baked with corn or potatoes) and Arroz con Carne (traditional rice and beef dish).
If you prefer chicken, we recommend Arroz con Pollo (chicken fillet with rice and spices) or chicken with a green sauce Jocón.
You should not miss a chance to try baked fish A la Plancha and Panamian Ceviche con Beche with seafood. Fish and bananas casserole with coconut milk and Escabeche (fish fillet roasted with vegetables) will surprise you with an unusual combination of tastes. A hot Panamanian Paella with seafood does not leave anyone indifferent.
Almost every dish in Panama is served in maize flatbread. They serve both as a plate and flatware.
The most popular drink the locals offer to every tourist is Chicha de Papaya with papaya and pineapple juice. A herbal tea mate with cinnamon and refreshing drinks with ice-cream Batidos – such a combination of tastes you can try only in Panama. We also recommend Pipas with coconut milk and Panamanian Chichas, a refreshing mix with fruit juices.
Every tourist should try local beer Soberana, Balboa and Atlas and Panamanian rum Carta Vieja and Seco Herrerano and, of course, a famous chicha from sugar cane.
For a dessert, you will be offered coconut milk and fruits. You should not leave Panama without trying a local fruit cake El Caramelo or a lemon cake Li de lemon. Those who have a sweet tooth can treat themselves to fantastic Panamanian desserts such as Delicia de Coco (a fluffy meringue dessert with coconut milk), Tentacion (fried bananas with cinnamon and vanilla) and Plantan tortillas (Panamanian flatbread with bananas and maize flour).
Money
The national currency in Panama is balboa. The Central Bank of Panama issues the coins from 1 to 10 balboas and coins from 1 to 50 centissimos. There are no bank notes in Panama.
One can exchange currency at banks and in exchange offices. In large cities, the tourists can exchange any international currency but in smaller cities they exchange only Euros and dollars.
In Panama, you can also pay with credit cards Visa, MasterCard and AmericanExpress. At each bank, you can cash traveler's checks but due to exchange rates fluctuations, you may have additional costs. We recommend having checks in US dollars.
The criminal situation in Panama is better than in other countries in Latin America but still it is not favorable enough. 
Details of interest
Planning a travel to Panama, learn about the local customs and traditions, make a plan of places you want to visit. 
Customs and traditions in Panama
The locals are friendly and talkative. They are willing to know more about other cultures.
In their everyday life, the Panamanians stick to European norm of behavior. They shake hands and hug each other upon meeting. However, in Panama, there are the tribes which preserved their own culture and traditions. The behavior in such ethnic groups is very different from the standard.
On the streets, you may often come across people in national costumes. Men wear ponchos, wide-brimmed hats and leather trousers. Women wear pollera, a long and fluffy dress decorated with embroidery.  They also decorate their hair with pearls and  fish scale.  
The Panamanians are very religious. They respect the traditions and go to the church. Many public buildings have religious elements.
Sightseeing in Panama
The Coiba National Park is inscribed in the UNESCO World Heritage List. In the park, the tourists will see the animals which are extinct in other parts of the world. They are the crested eagle, scarlet macaw, agouti and mantled howler monkey. The territory of the park is a laboratory for scientific research in natural conditions.
 The Metropolitan National Park is a habitat for many rare birds, insects, animals and plants. In the park, there are the observation decks.
The  Chagres National Park is the most exotic place in the country. There you will see amazing mountains, tropical forests and waterfalls. Any tourist can visit a village of an Indian tribe.
The Volcan Baru National Park. In fine weather, the tourists can enjoy a fantastic view of the coasts of two oceans, the Atlantic and Pacific ocean. The slopes of the volcano are the home for jaguars, panthers and birds. Here, the population of quetzal is preserved. This bird is included in the Red Book.
Souvenirs in Panama
The national Indian mola embroidery of Kuna women and other traditional souvenirs can be bought in Panama City, Grand Islands and Boca del Toro. You can buy very good Panamanian wide-brimmed hats in the capital city and in Colon.
Charkas bags, pottery and national tableware (jars and plates) are sold at any market in Panama.
The figurines carved from tagua nuts are a popular souvenir which will remind you of your holidays in Chitré and Grand Islands.