Tokaj-Hegyalja wine region
Resort type:

Country resort

Landscape:

Plain, Hills

What to do:

Culinary Tourism, Festivals & Carnivals, Nightlife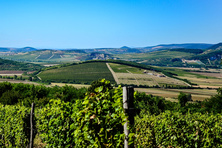 Tokaj-Hegyalja wine region is situated on the territory of Hungary. The region is well-known for its Tokaj wines made from white grapes. The centre of the region is the city of Tokaj situated on the shore of the Tisza River in Borsod-Abauj-Zemplen counties. Tokaj-Hegyalja wine region inscribes on the UNESCO World Heritage List.
The lovers of wine tourism will have a chance to visit Rakoczy Cellars. These huge cellars are considered a masterpiece of the local architecture. Their construction began in the 15th century and they got its name after the princely family of Rakoczy living in this region in the 18th century.
Those who prefer the excursion tourism will also find the cellars an interesting place because they will learn the secrets of wine making. In the city, there are also Tokaji Museum and World Heritage Wine Museum.
Every year at the end of May Tokaj is crowded with the fans of the event tourism. The city hosts Tokaj Wine Festival. In October, everyone can participate in the Harvest Festival of Tokaj.
If you cannot imagine travelling without shopping, in Tokaj you will find Nyir Plaza shopping mall. Enjoy your meals and good local wines in such restaurants as Sarga Borhaz, Bonchidai Csarda and Halsuto ez Palacsintazo. At night, Dufart Bor Klub, Szifon Espresso Bar and Room Bar open their doors.