Toledo
Resort type:

City resort

Landscape:

Town, Riverside, Cliffs, Flora of the Mediterranean

What to do:

Cycling, Golf, Historical & Architectural Monuments, Hiking, Shopping, Nightlife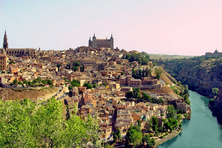 Toledo is the largest Spanish touristic centre and a dream destination for the lovers of the excursion tourism. An old capital of Spain is situated in the centre of the country 70 kilometres away from Madrid on the shores of the Tagus River. Toledo is part of the Province of Toledo and Castile-La Mancha autonomous community.
The sights of this city are the national historical and cultural heritage of the country. Many tourists first of all prefer to get acquainted with the main sights of the city. The excursion tour typically starts in the historic centre of the city which is a UNESCO site. The downtown of Toledo is a perfectly preserved ancient city with a street labyrinth, historical and religious monuments. The hallmarks of the city are Primate Cathedral of Saint Mary of Toledo, Monastery of San Juan de los Reyes and a magnificent castle Alcazar. Everyone tries to visit these places.
If you want to learn more about the city and the country, you should go to the Museum-Hospital de Santa Cruz, Army Museum, Museum of El Greco housing a complete collection of the artist's works.
The active tourists will not be disappointed. In addition to walking tours, they can ride a tourist tram or go biking around the city.
The wellness tourists can go to gyms, horseback riding school, play golf or get a rush of adrenaline in an adventure park. If you have the nerve, you can go parachuting.
Toledo is a good place for shopping as there are street markets, small souvenir shops and large malls.
If it is the nightlife you are after, you will find many nightclubs and casinos in Toledo, where you can stay and have a great time throughout the night.