Torun
Resort type:

City resort

Landscape:

Town, Riverside

What to do:

Culinary Tourism, Wellness Tourism, Hunting, Historical & Architectural Monuments, Gliding & Paragliding, Hiking, Rafting & Kayaking, Festivals & Carnivals, Shopping, SPA, Nightlife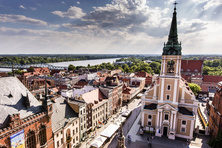 Torun is a city situated on the shores of the Vistula River in the northern part of Poland. It is 260 kilometres away from Warsaw. The city neighbours Inowroclaw, Chelmza, Bydgoszcz and Ciechocinek. The total area of the city is 116 square kilometres.
Many historical and architectural monuments of the city, which was founded in the 13th century, are the reason why it attracts the lovers of the excursion tourism. The tourists will walk along the Medieval Town of Torun. It is a complex of Gothic buildings inscribed on the UNESCO World Heritage List. The tourists can also see Gingerbread Museum, Bronze Donkey Statue, Krzywe Wieza and Explorers Museum.
For the religious tourists and pilgrims, a tour to the local churches is organized. It includes a visit to Saint Mary's Church, Saint John the Baptist and Saint John the Evangelist Cathedral, Saint Jame's Church.
The event tourism is well-developed in the city thanks to various sports competitions, concerts and festivals. For example, you can take part in Jazz Odnowa, Kontact Theater Festival and Polish Speedway Grand Prix.
The city clinics and medical centres attract the wellness tourists. You can also have relaxing spa treatments, cosmetic procedures and a massage in Blue Moon Wellness & Spa Center.
The extreme tourists can go fishing or hunting, try their hand at rafting or paragliding. They can also ride a hot-air balloon.
The ecological tourists should not miss a chance to go to Gostynin-Wloclawek landscape park. In the suburbs, they can enjoy the beauty of the river and go hiking.
You will have a good shopping in Torun. There are such malls as CH Bielawy, Torun Plaza and Centrum Handlowe Atrium Copernicus.
The foodies will try traditional Polish dishes in Szeroka No.9, Chleb & Wino и Karczma Spichrz.
At night some bars, discos and clubs open their doors. The most popular are Orion Night Club and Fantasy Park.