Trieste
Resort type:

City resort

Landscape:

Town, Mountains, Broadleaf Forest, Coniferous Forest, Hills, Bay Coast, Cliffs

What to do:

Culinary Tourism, Golf, Horse Riding, Historical & Architectural Monuments, Yachting & Sailing, Hiking, Fishing & Spearfishing, Shopping, SPA, Nightlife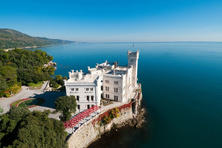 Trieste is a large Italian city in the northwest of the Balkan Peninsula. It belongs to Friuli-Venezia Giulia and situated on the shore of the Gulf of Trieste in the Adriatic Sea.
Trieste attracts largely the lovers of city entertainments and excursion tourism. All major sights are concentrated at the Unity of Italy Square. The tourists will see the Government Palace Trieste and the Palace of Lloyd Trieste. Religious tourists will surely want to see Trieste Cathedral. If you prefer ancient monuments, do not miss a chance to visit the Old Roman Theater of Trieste.
For those who love outdoor activities, there are trekking and hiking routes, horseback riding or biking tours in Carso Triestino.
If you prefer water activities, you can go sailing, fishing, rafting or canoeing. In the city, you will find a unique Bagni Comunali Lanterna beach which is divided into a male and a female areas.
In the city, there is Tennis Club Trieste and Golf Club Trieste. You can rack your brains in Escape Room Enigmarium. Estetica Aphrodite centre offers spa treatments and a massage.
The largest mall in Trieste is Torri D'Europa. In Rowell Design Lifestyle, you can buy handmade jewellery and bijouterie.
The cuisine in Trieste differs from classical Italian cuisine. In Enoteca al Patriarca, for example, you can try pork roasted with horseradish.
If you do not want to spend the night in your hotel room, go to Macaki club.