Bacs-Kiskun
Resort type:

City resort

Landscape:

Lakes, Riverside

What to do:

Aquaparks, Cycling, Natural Parks & Reserves, Horse Riding, Wellness Tourism, Historical & Architectural Monuments, Hiking, Safari, Thermal & Mineral Springs, Shopping, SPA, Nightlife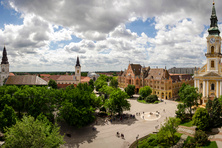 Bacs-Kiskun County is a Hungarian county in Southern Great Plain. It is situated between the 2 rivers - the Tisza River and the Danube River. The capital is Kecskemet.
This region will find favour with the lovers of the excursion tourism and outside activities. At the Kossuth Square, the tourists will see Town Hall built in Secession style. Walk a bit further and you will see Cifrapalota Palace. The palace now is the Art gallery.
In the city of Kalosca, the tourists can see Saint Joseph Church and visit the only Pepper Museum in the country which located in the old mill. The tourists will learn about the processes of growing and processing paprika. Military equipment of different periods is housed in Pinter Muvek Military Museum in Kecel.
The Scholt Radio Tower is one of the most powerful medium frequency radio waves transmitter in the world. The derricks are 303 meters high.
Kiskunsagi Nemzeti Park preserved unique samples of the steppe ecological system. This par is a biosphere reserve and is under UNESCO protection. In the centre of the park, you will find a salty Lake Szelid. Near the lake, there is a camping and a beach. The tourists can ride a bike or a jeep, take a walk and watch the birds.
Horseback riding is a popular entertainment in the region. You can learn it in the Bugac Pusta KFT farm which is in Bugac village.
Thanks to thermal sources, this region is popular with the wellness tourists. In the city of Kecskemet you should visit Kecskemet Bath. In Kiskunmajsa there is a spa centre and Jonathermal Medical Bath and Water Park.
Many tourists prefer to stay in the campings. There are special places for them such as Camping Jonathermal, Thermalbad en Kemping, Kerekdombi Termal Kemping and Tisza-parti Thermal Camping.
The shoppers can do the shopping at the Malon Plaza Kecskemet mall. Stay up all night and dance in Club Central.
Rozmaring Restaurant offers traditional Hungarian dishes. Olivola serves the Italian cuisine.