Uherske Hradiste
Resort type:

City resort

Landscape:

Town, Mountains, Riverside

What to do:

Aquaparks, Natural Parks & Reserves, Wellness Tourism, Historical & Architectural Monuments, Thermal & Mineral Springs, Nightlife, Zoos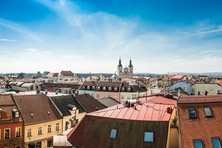 Uherske Hradiste in the Czech Republic is a city and the administrative centre of Uherske Hradiste District in Zlin Region.
The city attracts the tourists with its history and architecture. The tourists can visit Buchlovice Castle, which is one of the most prominent examples of the Czech Republic built in the Baroque style. Around the Castle, there is a park, which became a popular place to rest among the locals and the guests of the city.
You can also go to the Velehrad Holy Place where in the 9th and 10th century the capital of Great Moravia was situated.
The ecological tourists should definitely visit the White Carpathians Reserve, which extends to the Slovakian border. In 1996 the Reserve was inscribed on the UNESCO World Heritage List. In the Reserve, you will see more than 2.000 species of plants, 300 of them are exotic and 44 – unique, it means that you will not see these plants anywhere in the world but here. On the territory of the White Carpathians, you will find thermal and mud springs attracting the wellness tourists.
The tourists with kids will have a great time in Aquapark Dolphin and in Ugherske Gradishte Aquapark. In a neighbouring Hodonin, there is Hodonin Zoo.
You will enjoy your meals in such restaurants as La Brusla, Rotter and U Hejtmana Sarovce. At night Beef and Beer or ALMARA bistro bars open their doors. Konicek, Wellness Hotel Synot and Grand hotels have souvenir shops on site.