Uluru
Resort type:

Country resort

Landscape:

Mountains, Desert, Cliffs

What to do:

Ancient Monuments of Civilization, Natural Parks & Reserves, Caves, Tennis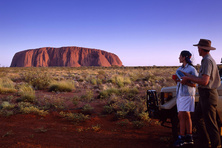 Uluru is a large oval red and brown mountain rising in the centre of Australia. The mountain is a UNESCO site and the recognized Eighth Wonder of the World. Uluru is situated on the Northern Territory 450 kilometres to the west from Alice Springs and 18 kilometres to the north from Yulara. Yulara is the city where the tourists typically stay.
At the foot of the mountain, there are many caves where the tourists can see rock art. Uluru is shrouded in mystery and legends, so you will hear them during the excursion tour.
Uluru has a unique characteristic – it changes its colour during the day. Many people come here only to see with their own eyes the changing colours.
Many tourists try and climb Uluru to see a fantastic view. However the locals warn of the dangers of climbing.
Not far from Uluru, there is Kata Tjuta complex, which is largely known and the Mount Olga.