Falun
Resort type:

Country resort

Landscape:

Town, Lakes, Riverside

What to do:

Cycling, Culinary Tourism, Boat Trips, Historical & Architectural Monuments, Caves, Sport Tourism, Fishing & Spearfishing, Shopping, Nightlife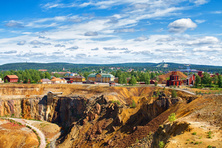 Falun is an administrative centre of a Swiss Dalarna County. It is situated in the central part of the country 230 kilometres away from Stockholm.
The city offers the active country holidays and the excursion tourism. In the past, Falun was a large copper mining centre in Sweden. The Falun Mine remind about it. This mining excavation is under UNESCO protection. The tourists can explore the cave which was formed in the result of the collapse in 1687. Excursions to the Falun Gruva mine are very popular among the tourists. This mine was the largest supplier of copper ore to Europe in the 17th century.
Those who want to learn more about the history of Dalarna County should go to Dalarnas Museum. In summer, the tourists can relax on the local Bojsen Beach, go kayaking and canoeing, fishing or take a boat trip along the Falun River. The lovers of winter activities are welcomed in Bjursas Ski Center. Outside Falun arranges ice-fishing, snowshoeing and motor sledding.
Take a walk in the city garden Gamla Staberg. There are bike paths, a cafe and a restaurant.
If you prefer out-of-town activities we recommend going biking around the Varpan Lake. There you can see many old houses of miners and manors. Do not miss a chance to visit a mansion of a Swiss artist Carl Larsson and enjoy his beautiful garden.
For the sportsmen, there is a large sports complex Lugnet. A mall Falun Galleria welcomes everyone to make purchases.
The foodies should definitely try Falun ox sausage. It is served in Blackstone Steakhouse. Smak Tapas serves the Spanish and Swedish cuisines. Banken Bar & Brasserie offers delicious meals and a night show.