Bekes
Resort type:

Country resort

Landscape:

Plain, Riverside

What to do:

Culinary Tourism, Golf, Natural Parks & Reserves, Carting & ATVs, Wellness Tourism, Historical & Architectural Monuments, Gliding & Paragliding, Hiking, Rafting & Kayaking, Thermal & Mineral Springs, Festivals & Carnivals, Shopping, Nightlife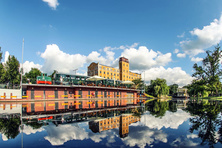 Bekes County is an administrative division (or medye) in Hungary in the Southern Great Plain. It is situated at the border with Romania. The neighbouring counties are Csongrad County, Jasz-Nagykun-Szolnok County, and Hajdu-Bihar County. Its total area is 5 631 square kilometres. The administrative centre is Bekescsaba. The Gyopárosfürdő spa resort in Oroshaza is a popular place among the lovers of a well-being tourism. The local thermal sources have a very positive effect on the condition of the people suffering muscle and bone disorders, neuralgia, gallbladder inflammation, maxillary sinusitis, and gastrointestinal disorders. On the territory of health centres, there are baths and diagnostic rooms.
Such events as the Csaba Sausage Festival and the International Folk Dance Festival make Bekes County a good destination for the even tourism.
If you come to Bekes County you should definitely visit the Bekescsaba City Hall and the Mihaly Munkacsy Museum. Among the most significant historical and architectural monuments are the Great Lutheran Church and the Small Lutheran Church, the Mor Joka Theatre, and the Saint Anthony of Padua Cathedral. The State Stud-Farm Estate of Mezohegyes is a UNESCO candidate site and a must-see place.
Make your journey even more memorable and your hand in rafting or kayaking, take private lessons in paragliding, parachuting or rope jumping. The active tourists also like hiking and four wheeler riding.
The lovers of city entertainments can visit a mall Csaba, dance in the night clubs Babylon, Narancs, and Eldorado, and play golf in the Viharsarki Golf Klub. The foodies can treat themselves to the traditional Hungarian dishes in such restaurants as Regimodi, Dreher, and Kondorosi.
For the ecological tourists, tours to the Koros-Maros National Park are arranged.