Finnmark
Resort type:

Country resort

Landscape:

Mountains, Seacoast, Lakes, Riverside

What to do:

Cycling, Golf, Downhill Skiing, Mountain Trails, Historical & Architectural Monuments, Hiking, Rafting & Kayaking, Fishing & Spearfishing, Safari, Festivals & Carnivals, Nightlife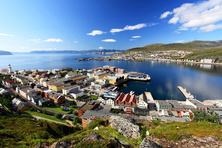 Finnmark is the largest province in Norway. It is the northernmost place of the country. The administrative centre is the city of Vadso. The largest touristic centre is Alta.
This region is very popular among the lovers of the excursion tourism, fishing and outdoors activities. The tourists can go on a four-wheeler ride, dog sledding, biking, yachting, rafting, kayaking or canoeing. They can also go on a jeep safari.
The commune Alta is very rich in historical sights. In Alta Museum, you will see ock art which is under UNESCO protection. A modern architectural monument is Nordlyskatedralen, its unique lighting reminds of Aurora Borealis. Hammerfest Church is the main sight of Hammerfest. The church is built in a triangular shape and inside one can see very beautiful stained-glass windows. In the city of Vardo, there is Vardoehus Fortress. Today, the fortress serves as a museum of arms of the 18th - 20th centuries.
The city of Vadso will not disappoint the lovers of a beautiful nature and the event tourism. The tourists can take a walk around the city, go biking, trekking or hiking. Every year the city holds a Crab Festival. Varanger Golf Club welcomes everyone who knows how to play golf.
Winter Finnmark attracts the fans of skiing and snowboarding. One of the most popular resorts is SarvesAlta Ski Center. Go to Seiland National Park and you will see amazing views. Physically strong tourists can go hiking to the Alta Canyon and the Alta Dam.
Families with children will surely have a good time in an amusement park Boazo Sami Siida in the city of Alta. Another amusement park Lekeland welcomes little travellers in Hammerfest.
In an antique shop Det Hvite Hus in Vadso, you will find original souvenirs. A large mall AMFI in Kirkenes offers a lot of European goods. If it is a nightlife you are after, then go to the club Barila in Alta.
The foodies should not miss a chance to try a Norwegian dish Sjemans beef in Gapahuken Restaurant in the city of Kirkenes.