Funen
Resort type:

City resort

Landscape:

Seacoast, Island, Plain, Steppe, Hills, Strait

What to do:

Cycling, Golf, Horse Riding, Boat Trips, Historical & Architectural Monuments, Yachting & Sailing, Hiking, Caves, Sport Tourism, Fishing & Spearfishing, Shopping, Nightlife, Oceanariums & Dolphinariums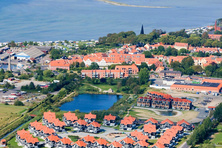 Funen is a large island in the Kingdom of Denmark. The capital is the city of Odense. Among the most popular touristic centres are Svendborg, Nyborg, Middelfart and Faaborg.
The island is very popular among the lovers of beach holidays, excursion tourism and outdoor activities. A hall,ark of the island is Egeskov Castle in Odense. The castle was built in the 16th century and it is a masterpiece of such an architectural style as the Northern Renaissance. The castle is surrounded by a park covering a territory of 2.5 square kilometres. In the park, the tourists can go to the Cave of Dracula, Motorcycle Museum and see the skulls of different animals. The tourists can reach the castle on foot or by funicular. We also recommend seeing such a religious sight as Odense Cathedral built in an obscure Gothic style. Segwaytours Odense offer segways riding.
In the suburbs of Svandeborg, there is Valdemar's Castle. It was built in the 17th century. Today in the castle you will find Toy Museum and Maritime Museum.
The lovers of beach holidays can relax on the Kerteminde Beach. There is a wide choice of activities such as sailing, kayaking, yachting, fishing and boat cruises. You can order a yacht tour at Odense Aafart.
If you like walking and staying outdoors you should definitely go Svanninge Bjerge. There you can have a picnic, go fishing, biking or horseback riding. The Starling Air club offers a unique chance to see the island from a bird's eye view. The extreme tourists can go to an adventure park Holstenshuus Klatrepark.
The tourists with children will enjoy their time at Odense Zoo and Aquatic World. Love the speed? Then Odense Gokart Hal welcomes you. Anyone can play golf at Thuroe Minigolf and bowling at Bowl'n'Fun Svendborg.
In Vestfyns Fodboldgolf sports complex you can play tennis, volleyball, football, go to a gym or a skating ring.
Do not forget to, but gifts and souvenirs at a mall Rosengaardcentret in Odense. There is a wide choice of European goods. On a farm Svendborg Market, you can buy fresh seafood.
The restaurant Sortebro Kro serves the danish cuisine. The nightclub Carlsens Kvarter offers an exciting show.