Hemsedal
Resort type:

Ski resort

Landscape:

Mountains, Coniferous Forest, Hills

What to do:

Mountaineering, Golf, Downhill Skiing, Snowboarding, Nightlife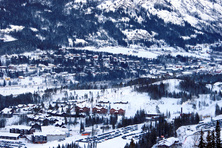 Hemsedal is a ski resort in Buskerud County between Bergen and Oslo in the south of Norway. The distance from Hemsedal to Oslo is 220 kilometres and to Bergen is 230 kilometres. The resort is 520 kilometres away from Gothenburg, 740 kilometres away from Stockholm and 820 kilometres away from Copenhagen. The highest peak is Toten Mountain. It is 1.497 meters high. The mountain offers a stunning view of the hills or mountains surrounding beautiful groves and small villages.
The resort has 53 skiing trails of different levels of complexity. There are trails for the beginners and for children. If you want to master your skiing skills, there is a Ski School Hemsedal which offers both individual and group skiing, carving, snowboarding and moguls courses.
For the tourists with kids, a nursery Revehiet is open. The children will surely enjoy their time in an amusement park Gaupeland.
This resort is recognized to be the best in Norway for snowboarding. Hemsedal holds the World Cup Slalom every year. For those who prefer cross-country skiing, there are 210 kilometres of trails.
The tourists can also go dog sledding, horseback riding, sledding, ride a snowmobile, go climbing, parasailing or take an excursion to Flam Railway and Sognefjord.
There are over 20 restaurants, 11 bars, nightclubs and shops in Hemsedal.