Hubei
Resort type:

City resort

Landscape:

Mountains, Canyon, Broadleaf Forest, Lakes, Plain, Riverside, Coniferous Forest

What to do:

Mountaineering, Culinary Tourism, Downhill Skiing, Mountain Trails, Natural Parks & Reserves, Wellness Tourism, Historical & Architectural Monuments, Caves, Rafting & Kayaking, Snowboarding, Thermal & Mineral Springs, Festivals & Carnivals, Shopping, Nightlife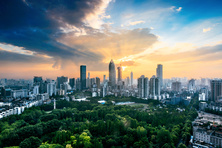 Hubei is a Chinese province with the total area of about 186.000 square kilometres. It is situated in the central part of the country and includes 13 prefecture-level divisions, 3 sub-provincial cities and 1 autonomous prefecture. It neighbours such provinces as Anhui, Henan, Sichuan, Hunan and Jiangxi. The city of Wuhan is a capital city.
A rich history of the province attracts thousand of people who love excursion tourism. The most attractive and full of sights is Xiangfan, Wuhan and Jinzhou. Such historical or architectural monuments as Purple Cloud Temple, Baishui Monastery and Ancient Buildings in the Wudang Mountains are of a great tourist's interest. These sites are inscribed on the UNESCO World Heritage List. There is an interesting excursion program at Tingsiqiao Battle Site.
The extreme tourists will also have a wide choice of activities from rafting and kayaking to climbing, trekking or bungee jumping. The best place for climbing is the Wudang Shan Mountains. The active tourists can go on a tour along the Han Jiang River or the Yangtze River and explore the caves in Shennongjia Forestry District. Hubei is very popular with the ecological tourist's thanks to its picturesque suburbs and Shennongjia Nature Reserve. In this Reserve, the tourists can go skiing and snowboarding.
In Xianning, you will find hot springs popular with the wellness tourists. The waters here are rich in calcium, magnesium, potassium, used to treat skin and joint diseases.
If it is the event tourism you are after, then you can participate in one of the local celebrations or festivals which take place in Wuhan. The most popular event is Acrobatics Art Festival.
Such malls as Wuhan Plaza and Bailian Outlets Plaza welcome everyone to make purchases.
The foodies will enjoy traditional Chinese cuisine in Wu Han Da Xue Gui Yuan and Grandma's Home.
The best night clubs in the province are Soho, Red Lover Club and Xiangteli.