Isla de la Juventud
Resort type:

Beach resort

Landscape:

Seacoast, Island, Tropical Forest

What to do:

Culinary Tourism, Diving & Snorkelling, Natural Parks & Reserves, Boat Trips, Wellness Tourism, Historical & Architectural Monuments, Hiking, Fishing & Spearfishing, Surfing, Windsurfing & Kitesurfing, Shopping, SPA, Nightlife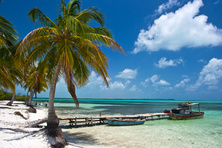 Isla de la Juventud is the second largest Cuban island having a status of a municipal republic. It is situated in the Caribbean Sea and is 50 kilometres away from the southern shores of the Cuba Island. Nueva Gerona is an administrative centre. The total area of the island is 2.419 square kilometres.
A desert coast of the western part of the island is ideal for isolated and quiet holidays. The lovers of beach holidays should stay on the resorts nor far from Nueva Gerona. Paraiso Beach and Bibijauga Beach are especially popular with the tourists. There is a wide choice of activities for the extreme tourists from windsurfing, water skiing, kiting, snorkelling to sea fishing. Divers choose this place because of its rich underwater world, coral reefs and ruins of sunken ships. The best places for diving are Los Barcos Hundidos, Tunel del Amor and Piedra de Coral.
The ecological tourists can take a walk in the pine woods and explore the ecological systems of the southern highland of the island. The tourists should not miss a chance of visiting Punta Frances Marine National Park.
Those who prefer city entertainments should stay in the local capital. In Nueva Gerona, there is a nightclub Cabaret El Patio and a Disco Nueva Cafe Virginia. Shops are located on Calle 39 street.
The main historical and architectural monuments can be found in the administrative centre of the island. Among the most interesting sights is a former prison building Presidio Modelo and Finca El Abra Museum.
The wellness tourists will surely enjoy the time they spend on the island because of its favourable ecology and a mild climate. The hotel Eurostars Convento Capuchinos has a wellness centre where the guests can have spa treatments.
The foodies will enjoy their meals in such restaurants as El Caney and El Galeon in Nueva Gerona.