Hudiksvall
Resort type:

City resort

Landscape:

Town, Lakes, Riverside, Mixed Forest, Coniferous Forest, Bay Coast

What to do:

Cycling, Culinary Tourism, Natural Parks & Reserves, Wellness Tourism, Historical & Architectural Monuments, Gliding & Paragliding, Yachting & Sailing, Hiking, Rafting & Kayaking, Fishing & Spearfishing, Surfing, Windsurfing & Kitesurfing, Festivals & Carnivals, Nightlife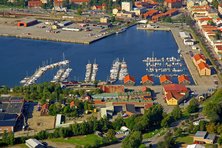 Hudiksvall is a Swiss city with the total area of about 10 square kilometres and it belongs to Gavleborg County. Hudiksvall is an administrative centre of Hudiksvall Municipality. It is situated on the shore of the Gulf of Bothnia in the central part of the country. It is 290 kilometres away from Stockholm and 80 kilometres away from Sundsvall.
A rich cultural heritage makes Hudiksvall a great destination for the excursion tourism. The tourists will acquaint themselves with the local traditions, legends and everyday life of the local people. There are virtually no historical and architectural monuments in the city, but the tourists can take a study tour around the county. The excursion program includes a walk in the Old Town Gavle, a visit to Oskarsborg Tower and Enanger Old Church.
The ecological tourists should definitely visit Jarvsoklacken Nature Reserve. Hamra National Park is popular not only with the lovers of nature, but also with the extreme tourists. It has all the necessary conditions for climbing. The most part of the territory is occupied by coniferous forest and the trees here are over 300 years old.
The active tourists can try their hand at kiting, parasailing, diving, yachting, sailing, rafting, rowing, and windsurfing. Anyone can also go fishing, trekking, hang-gliding, biking, rope jumping and hiking.
There are modern malls in the city such as Fyren Gallerian and Gallerian Guldsmeden. You can also go to night clubs Playa del Kandell and Hogges Krog and bars.
If you want to try the national Swiss dishes we recommend going to the restaurants Sigges, Parkhyddan and Avholmsbergets.
The annual Nordic Song Festival attracts a lot of tourists to Hudiksvall.
The wellness tourists come to the city to improve their health staying outside and enjoying a good ecology.