Hohhot
Resort type:

City resort

Landscape:

Mountains, Lakes, Riverside

What to do:

Mountaineering, Culinary Tourism, Ancient Monuments of Civilization, Natural Parks & Reserves, Horse Riding, Wellness Tourism, Historical & Architectural Monuments, Gliding & Paragliding, Hiking, Sport Tourism, Rafting & Kayaking, Festivals & Carnivals, SPA, Nightlife, Religious Pilgrimage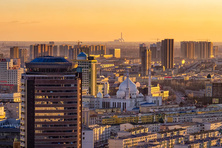 Hohhot is a city in Inner Mongolia Autonomous Region serving as region's administrative centre. It is situated in the north of the People's Republic of China close to the Mongolian border. It is 485 kilometres away from Beijing. The total area is 17.271 square kilometres.
A great number of temples makes Hohhot an important regional centre of the excursion tourism and pilgrimage. During an excursion trip, the tourists will see Da Zhao Temple, Temple of the Five Pagodas, Xilitu Zhao Temple and Tomb of Princess Zhaojun. You can also take a trip to Inner Mongolia region and see more sights. For example, you can have a walk along Site of Xanadu,which is a monument of ancient civilisations protected by UNESCO. Genghis Khan's Mausoleum, Wudang Zhao Monastery and Hulunbuir Old Town are also of a great touristic interest.
The ecological tourists should definitely go to Hailaer National Forest Park. Do not miss a chance to see the so-call Moon Lake.
The event tourism is well-developed in the city thanks to many traditional festivals and celebrations. The most popular events that attract many tourists are Dazhao Temple Festival and Naadam Grassland Festival.
There is a wide choice of activities for the extreme tourists from trekking, parachuting, paragliding, hang-gliding, hiking to rope jumping and horseback riding. One can also go climbing the Aobao Mountain. The Dahei River is good for rafting and kayaking.
The wellness tourists will improve their well-being in Hohhot thanks to spa treatments in a wellness centre of the hotels Zhaojun and Yi Tai.
There are large malls in the city such as Shiji Tianjiao Brand and Changlegong, a golf field at Taiwei Golf Club, night clubs Longfeng and Agogo Disco. You can also have a fun time in the bars. Traditional Chinese cuisine is served in such restaurants as MaiXiang and ChiLe Ge.