Celje
Resort type:

City resort

Landscape:

Town, Riverside, Hills

What to do:

Downhill Skiing, Wellness Tourism, Historical & Architectural Monuments, Amusement Parks, Hiking, Festivals & Carnivals, Shopping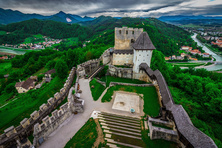 Celje is an ancient city in Slovenia in the Lower Styria Region.
This resort attracts the lovers of excursions as it has a centuries-long history dating back to the ancient times. The tourists will visit Celje Castle on the Grajski Hrib Mountain offering an amazing view over Celje and its suburbs. Everyone can take a walk across the territory of the Castle and have a meal at a local restaurant nearby. A ceremony of appointing anyone a knight or a wedding ceremony in a Medieval style can be arranged for the tourists.
Among some other famous sights of the city is Church of the Virgin Mary with burial vaults of Celje dukes.
If you want to learn more about the country and its history you should not go past Posavje Museum, which holds unique collections of jewellery, arms and books.
If it is a wellness tourism you are after, there is NN Dimenzije Wellness Center, where you can have a special relaxation treatment.
The Entertainment Center Zorb Ekopool and Balonarski Klub Ekopool offer a great variety of choices for the extreme tourists.
In winter, one can go to skiing resorts. The best is Celjska Koca Ski Resort.
Every year in May, the Vintage Swing Festival takes place in Celje.
Go shopping to the Galerija D'94. The foodies can treat themselves to the Slovenian dishes in Gostilna Francl, Pri Franclu, and Hochkraut. If you do not want to spend a night in your hotel room go to the bars Mansion, Pranger Pub, and Country Pub.