Ciechocinek
Resort type:

Country resort

Landscape:

Town, Broadleaf Forest, Riverside, Coniferous Forest

What to do:

Natural Parks & Reserves, Wellness Tourism, Historical & Architectural Monuments, Shopping, Nightlife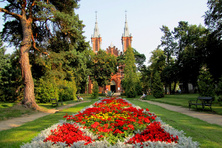 Ciechocinek is a popular balneological and mud resort in Poland. It is situated on the shores of the Vistula River. It is 25 kilometres away from the city of Torun.
A soft climate of the region and 15 mineral springs which contain sodium chloride attract all the fans of a wellness tourism. In the medical centres of Ciechocine, anyone can have treatments preventing rheumatism, gynaecological disorders, obesity, blood circulation conditions, skin and musculoskeletal system diseases. The most popular medical facilities among the tourists are Dom Zdrowia, LILA Sanatorium, Klinika Uzdrowiskowa Pod Tezniami and ORION.
There are four parks in the city. They become a favourite place both of the tourists and of the locals. In Resort Park, there is one of the oldest pump-rooms built in a Switzerland style. You can see there a very old oak which is a local sightseeing of this place.
After health-improving treatments, the tourists can take a trip to Torun and visit Nicolaus Copernicus House Museum, the Leaning Tower and Burgher Yard.
If you like shopping, the supermarket Tesco welcomes you. The foodies can treat themselves to delicious meals in Amazonka, Palacowa and Willa Piast Ciechocinek. The bars Pod Akacjami and Kujawiaczek open their doors for everyone.