Bohemian Switzerland National park
Resort type:

Country resort

Landscape:

Mountains, Canyon, Broadleaf Forest, Riverside, Coniferous Forest, Cliffs

What to do:

Natural Parks & Reserves, Historical & Architectural Monuments, Hiking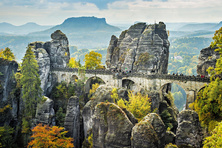 Bohemian Switzerland is a National Park in the northwest of Czech Republic not far from the border with Germany.
The guests of the park are attracted by the amazing landscape which was formed by the mountains, canyons, and crevices. The highest peak in the park is the Decin Sneznik Mountain. The canyon of the Kamenice River and an old artificial water reservoir are believed to be the most picturesque places.
The Pravcicka Gate became a symbol of this park. Walking under the arch the travellers can reach viewing platforms and enjoy wonderful views of the park.
If you happen to be in Bohemian Switzerland you should not miss a chance to visit the Falcon's Nest Castle. On the second floor, there is the Bohemian Switzerland Museum and on the first floor, you will find a restaurant serving authentic Czech dishes.
Among all the sites of the park the Dolsky Mill and the Saunstejn Castle are a must-see.
The tourists can stay in the hotels in the city of Decin. The malls Centrum Pivovar, Kaufland, and TESCO Decin offer a great shopping experience. The most popular restaurants are Restaurace Tunel, Viadukt, and Kocanda. At night, in Decin night clubs Kapitan, Lucky, and Bodenbach open their doors for everyone.