Zhenjiang
Resort type:

City resort

Landscape:

Town, Lakes, Riverside

What to do:

Culinary Tourism, Natural Parks & Reserves, Horse Riding, Wellness Tourism, Historical & Architectural Monuments, Gliding & Paragliding, Hiking, Rafting & Kayaking, Fishing & Spearfishing, Surfing, Windsurfing & Kitesurfing, Thermal & Mineral Springs, Festivals & Carnivals, SPA, Nightlife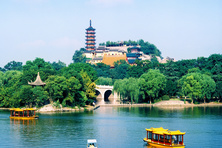 Zhenjiang is a city in Jiangsu province. It is located on the southern shore of the Yangtze River in the eastern part of the country. It consists of 3 city counties and 3 districts. The city neighbors Yangzhou, Changzhou and Nanjing. Its total area is almost 4.000 square kilometers.
The lovers of the excursion tourism often come to Zhenjiang to get themselves acquainted with the local historical and architectural monuments. Among the most interesting sights are Guanlan Pavilion and Zhuangguan Pavilion, Jiaoshan Mountain Old Fort, Zhaoyin Temple, Ganlu Temple and Shaolong Temple. Do not miss a chance to take a walk along XiJinDu Ancient Street. If this is not enough for you, you can go on a tour around the province to see some UNESCO sites. For example, Suzhou Classical Gardens, Imperial Tombs of the Ming and Qing Dynasties and part of the Grand Canal.
You will have a great shopping experience at such malls as Fashion Huayang Shopping Plaza and Gaozi. If you do not want to stay in your hotel room at night, you can co to Fantasy paradise, Zhongtian Entertainment Palace and Duozuo clubs. The foodies will try traditional Chinese delicacies in such restaurants as Liyin, YanChun and Xin Run Ji.
The international Chang Jiang Music Festival attracts to the city those who prefer the event tourism.
Siboli and Crown Plaza hotels have wellness centers on site. The wellness tourists can have toning or relaxing spa treatments. Weigang Hot Spring is also very popular with the wellness tourists.
The city will not disappoint the extreme tourists. They can go windsurfing, kitesurfing and parasailing on the Lake Taihu. The active tourists can also try their hand at paragliding, hang-gliding, hiking, trekking, rafting, rope jumping, kayaking, horseback riding, fishing and biking.
The ecological tourists will surely want to visit Tongli National Wetland Park.