Shanxi
Resort type:

Country resort

Landscape:

Mountains, Canyon, Lakes, Riverside

What to do:

Mountaineering, Culinary Tourism, Natural Parks & Reserves, Wellness Tourism, Historical & Architectural Monuments, Gliding & Paragliding, Hiking, Sport Tourism, Rafting & Kayaking, Surfing, Windsurfing & Kitesurfing, Festivals & Carnivals, Shopping, SPA, Nightlife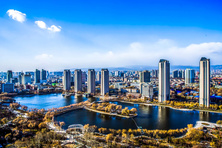 Shanxi is a Chinese Province surrounded by the Taihang and Lulilang mountains and situated in the northeast of the country. It borders Inner Mongolia, Hebei Province, and Shaanxi Province. The administrative centre is Taiyuan. The total area of the Province is more than 204. 000 square kilometres.
The local landscape with its cliffs and mountains attracts to Shanxi the lovers of the ecological tourists. They can visit the Fenghuanggu Forest Park and Yingze Park, explore the mountainous ecological systems. The tourists will want to see Yungang Grottoes and the Wutai Mount which are under UNESCO protection.
There is a wide range of activities for the extreme tourists. For example, windsurfing, paragliding, rafting or kayaking on the Hai River. You can also try your hand at parachuting, rope jumping and climbing on the Mount Hua.
You will find many architectural and historical buildings in the capital of Shanxi, the city of Taiyuan. The lovers of the excursion tourism can take a walk in the city and see such sights as Twin Tower, Wuyi Square, Chongshan Monastery. If you go to the Ancient Town of Ping Yao, you will see the remnants of stone houses built around the 6th century.
The tourists can stay in such hotels as Shanxi Yingze and Tianyigong Celeb Club, which have modern wellness centres on site. You can have a massage and spa treatments there.
Those who prefer the event tourism try to come to Shanxi when Shanxi Noodles Festival and Jin Merchant Shehuo Festival takes place.
For the foodies, cooking and wine tours are organized. Typical Chinese dishes are served in such restaurants as Shanxi Huiguan, A Wa Shanzhai, Quanjude Roast Duck.
Wan Peng, Sephora and Dragon Mansion malls invite you to go purchasing.
At night, go to Datong to spend a great time in Tai Hechun, Red Flag and Inte nightclubs.