Charleroi
Resort type:

City resort

Landscape:

Town, Riverside

What to do:

Golf, Diving & Snorkelling, Natural Parks & Reserves, Horse Riding, Wellness Tourism, Historical & Architectural Monuments, Hiking, Sport Tourism, Rafting & Kayaking, Fishing & Spearfishing, Surfing, Windsurfing & Kitesurfing, SPA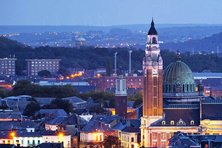 Charleroi is a Belgian city in the province of Hainaut in Walloon region situated on the Sambre River in the north-west of the country. The total area of the municipality is about 102 square kilometres. The city is 50 kilometres away from Brussels and 48 kilometres away from Mons.
Out-of-town regions in Charleroi are extremely popular among the ecological tourists. There are many outdoor activities here from hiking along the shores of the Sambre River to the tours to Enghien park and Hanging Gardens. The active tourists have a chance to explore the Neolithic Flint Mines at Spiennes which are under the UNESCO protection.
Those who cannot imagine their holidays without any extreme can try horseback riding, trekking, and parachuting. There is also everything one needs for kayaking, rafting, rope jumping, river windsurfing, and fishing.
We recommend everyone who cares about one's health visiting a wellness centre L'Esprit de Cocagne and have a toning massage and a relaxing spa treatment.
In the city, there are comfortable hotels where the guests can play volleyball and tennis and swim in a pool. Not far from Charleroi in the hotel Class'eco Charleroi one can find a fitness centre, a gym and golf fields Ragnies and Rougemont.
If it is excursions you are after, you can visit the only historical and architectural monument in Charleroi and it is a famous Castle Monceau-sur-Sambre built in the 17th century. One can also see such provincial sights as Church of saint Christopher and the Ploegsteert Memorial.
Make your holidays even more memorable and go to museums, exhibition halls, and galleries. Interesting collections offer Museum of Photography, Glass Museum, and Museum Destree Jules.
In the hotels Leonardo and Basse Sambre, there are small shops where you can buy all the necessary things for your holidays. To make bigger purchases go to such malls as Bellefleur and Ville.
In Brasserie Felix, Brasserie Le Pieton, and Friterie Le Vesperal the foodies will try typical Belgian dishes.