Chateauroux
Resort type:

City resort

Landscape:

Town, Valley, Lakes

What to do:

Mountaineering, Cycling, Culinary Tourism, Natural Parks & Reserves, Horse Riding, Wellness Tourism, Historical & Architectural Monuments, Gliding & Paragliding, Hiking, Sport Tourism, Shopping, SPA, Nightlife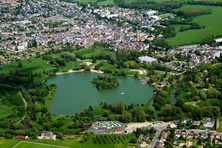 Chateauroux is a French city which is also an administrative centre of the Indre Department. It is part of the Province of berry and is situated near the Indre River in the central part of France. The city is 265 kilometres away from Paris and 124 kilometres away from Turs. The total area of the city is 20 square kilometres.
A well-developed chemical, textile, machine, and food industry make Chateauroux an important centre of a business tourism.
The fans of extreme tourism also choose this city to spend their holidays. There is a great range of choices of extreme activities from trekking, paragliding, rope jumping, parachuting to rafting and kayaking on the Indre River. The tourists can also try their hand at climbing or canyoning in the Mont Ventoux and Mont Blanc. Hiking, horseback riding, and biking are also very popular activities among the tourists.
If it is city entertainments you are after, bars, a bowling centre Cyber, night clubs Le Complexe and La Source open their doors for you. You can also go shopping at the malls Auchan and La Poste Beaulieu.
The amazing nature of the out-of-town districts makes this place a good destination for the ecological tourism. The tourists will enjoy the Ponds of Brenne, visit the Reserve of La Haute Touche, walk in the Gardens Poulaines, and explore the ecological system in the Regional Natural Park of Brenne.
If you prefer excursions more, there are group tours to the historical and architectural sights in Chateauroux. Among the most interesting sights is the Castle of Argy and the Castle of Bouges. These buildings are an example of citadel architecture of the 16th century. You can also go to Bertrand Museum Hotel and an amusing Witchcraft Museum.
In the hotels Prevautel, Relais Saint Jacques, and Ibis Chateauroux, there are spa salons and wellness tourists can have a relaxing massage and toning spa treatments there.
The foodies should not miss the chance to try delicious French dishes in La saint Hubert, La Manufacture, and Pension Chez Maurice.