Sopron
Resort type:

City resort

Landscape:

Town, Lakes, Riverside, Coniferous Forest

What to do:

Cycling, Culinary Tourism, Natural Parks & Reserves, Horse Riding, Historical & Architectural Monuments, Amusement Parks, Shopping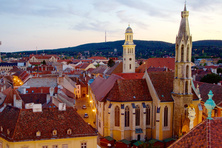 Sopron is the second largest city in Gyor-Moson-Sopron in Hungary. It is situated in the northeast of the country not far from the Austrian border. The city is 80 kilometres away from the city of Gyor and 220 kilometres away from Budapest.
Sopron is the main destination for the excursion tourism. In the old city, the tourists will see the masterpieces of Austrian Baroque architecture of the 16th - 18th centuries. The most impressive in the entire architectural ensemble is Storno-House in Sopron and Gambrinus House.
At the main square of Sopron, the tourists will see the Fire Tower which is 60 meters high. It was built in the 11th century in a Neo-Renaissance style. Another interesting historical monument is the Dominican church which is more widely known as the Goat Church in Sopron. The Old Synagogue in Sopron is the oldest in Central Europe.
Those who prefer outdoor activities should visit Ferto-Hansag National Park. The tourists can go biking and horseback riding along the paths, go fishing on the Ferto-Hansag Lake. In the suburbs of Sapron, there is a famous Esterhazy Palace.
The tourists with kids should definitely go to Sopron Summer Toboggan Run. You can have a family picnic in a picturesque Lover Kalandpark Sopron.
Go shopping at Alpha Park Shopping centre where you will find leather shoes and accessories of high quality.
A favourite dish of the Hungarians is Rakott Krumpli and you can try it in Erhardt restaurant.